Ask a group of Australian teens to name one home-grown movie they've seen at the cinema in the last few years and you'll likely receive a bunch of blank looks. And that's hardly the result of ignorance. For reasons likely relating to budgetary constraints, our film industry tends not produce anything for younger action-craving demographics, which is a real shame considering how lucrative that market can be.
While far from perfect, Tomorrow, When the War Began deserves kudos simply for filling that void. Based on the immensely popular teen fiction novels by Australian author John Marsden, this action-packed directorial debut from screenwriter Stuart Beattie — best known for co-writing the Pirates of the Caribbean series — follows a group of teenagers as they struggle to survive in the wake of a shock invasion of Australia.
** Read our exclusive interview with stars Caitlin Stasey (Ellie) and Deniz Akdeniz (Homer) here! **
Tomorrow is our answer to the Hollywood blockbuster, boasting an attractive young cast, thrilling action set pieces, impressive special effects, and — just in case you start to think you are watching a Hollywood film — a scene where Vegemite is devoured straight from the jar. Next to riding Skippy to school, that's about as Aussie as it gets.
But as is the case with most films dedicated to appeasing short attention spans, Tomorrow struggles to register on an emotional level. What was both a fascinating and frightening "what if?" scenario in Marsden's novel is merely an excuse for repeat explosions in Beattie's film, losing much of its intensity to far-fetched plotting and histrionic direction.
The film begins breezily when seven high school friends from a small country community decide to go on a camping trip to escape civilization (which is defined nowadays as being without mobile phone reception).   Each of the characters are prominently defined; there's Ellie (Caitlin Stasey) the determined leader, Corrie (Rachel Hurd-Wood) her gossiping BFF, Kevin (Lincoln Lewis) the football jock, Fiona (Phoebe Tonkin) the prissy beauty queen, Robyn (Ashleigh Cummings) the staunch Christian, Homer the immature prankster and Lee (Chris Pang) the reticent son of Thai immigrants.
While sleeping under the stars, the group is awoken by dozens of military planes flying overhead, yet it's only when they return to their eerily deserted homes that they realise the reality of the situation; Australia, for reasons unknown, has been invaded by foreign forces. Ellie and her friends come to the conclusion that if they want to survive the war, they'll have to stop acting like kids and start thinking like soldiers.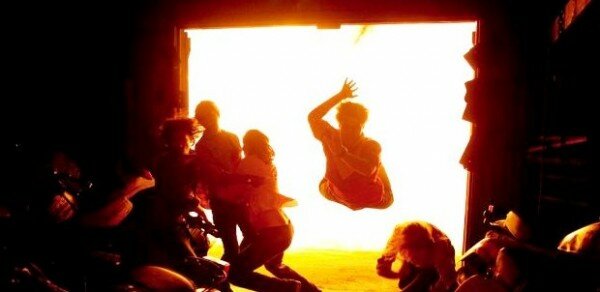 Witnessing these teenagers forcedly mature in the face of adversity is an intriguing subtext somewhat spoilt by Beattie's clumsy screenplay, where characters tend to verbalise exactly what they're feeling rather than allowing for the actors to simply portray it. It's a disservice to the performances that are generally quite solid, particularly for a young and relatively inexperienced cast. Ex-Neighbours star Caitlin Stasey has a strong screen presence as Ellie, exhibiting some impressive range as the headstrong protagonist. Stasey occasionally narrates the story in attempt to bring Ellie's first-person perspective from the book to the screen, but it's so feebly implemented that it really shouldn't have made the final cut.
Up-and-coming Aussies Deniz Akdeniz and Ashleigh Cummings are also commendable in their roles, each clearly in sync with the nature of their characters. In fact, the only real disappointment comes by way of newcomer Chris Pang as Ellie's love interest Lee. His dialogue is unconvincingly delivered and his presence on screen borders on awkward.
Ultimately, it's hard not to feel slightly disappointed by what could have been a more nuanced look at how today's teenagers respond to life-or-death situations, especially when you find yourself chuckling at scenes asking to be taken seriously. That being said, Tomorrow, When the War Began should equally be applauded for its ambitious Hollywood scale, featuring some of the most explosive action sequences to come out of our industry in years. This is a film made for teens, and it's important to remember that while watching. It's just a shame that those who first grew up with Marsden's books are now of an age where they prefer their drama with less pulp and more polish.

Follow the author Anders Wotzke on Twitter.
Related Posts: