Like Gran Torino or About Schmidt, Get Low offers its elderly star a role to immerse himself in that not only acknowledges his advanced age, but makes it an essential element of his character. Robert Duvall, now 80 years old, plays Felix Bush, a gruff old hermit living in the backwoods of 1930s Tennessee. He keeps to himself and is content to have no friends, although this adds to the sinister air of mystery attributed to him by the townspeople. For Felix is something of a local legend; he is a source of endless gossip and people stop to stare at him whenever he makes an appearance in town.
On one of these rare visits, he stops by the funeral home, run by the shrewd Frank Quinn (Bill Murray) and his earnest young apprentice, Buddy (Lucas Black). In desperate need of the money, they accept his bizarre proposal to hold a funeral for him before he dies. He wants it to be a big celebration, where anyone with a story about him can come and tell it, so he can confront his accusers publicly and finally ease his conscience. In short, it's his one and only chance to set the record straight.
What follows is a quirky and low-key character-driven piece, in an evocative and tenderly rendered setting – with a structure that condemns it to slowly crawl to the expected outcome. The elements of the central mystery, involving renewed ties with a loving old acquaintance, are gradually, tantalizingly unveiled, but by the time we reach the big reveal, it doesn't amount to very much. The character of a man with a shady past aching for redemption, remaining tight-lipped while those around him propagate damaging rumours as they wait for an explanation, has been explored plenty of times before (see Levity, Hard Eight, or the powerful I've Loved You So Long, where the central character is a woman), but it's confounding why Felix has allowed his reputation to be dragged through the dirt as long as he has.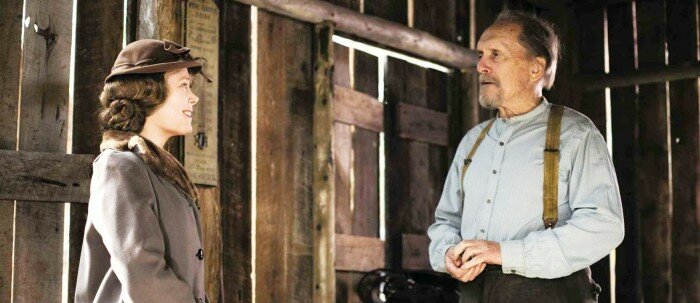 The elegiac tone is obviously no accident, however, and the ponderous route of the film is livened up by the presence of the deadpan Bill Murray, doing what he does best and providing a lot of the film's charm. The performances can certainly not be faulted, with Duvall sinking his teeth into a role far meatier than the supporting parts he is restricted to in recent films like Crazy Heart and The Road. Fellow old-timer Sissy Spacek brightens every scene she's in – unlike the rather bland Lucas Black (who, as a child actor, appeared in Sling Blade with Duvall some thirteen years earlier).
It took some time for Get Low to secure a cinema release; one reason for this may be that it is a difficult film to classify. And any American movie that tries to tackle themes of regret, atonement, and ultimately death, has its work cut out for it with regard to reaching a large audience. While all the pieces don't add up to an entirely satisfying whole, it's hard to dislike a film with characters as warm, witty and wrinkled as these. Moonshine served in selected cinemas.
Related Posts: