Disproving theories on the inability of male multitasking, Ben Affleck skilfully acts, writes and directs The Town, a slick heist thriller that, predictability aside, successfully balances an action-driven and character-based storyline.
For Doug MacRay (Ben Affleck) living in the bank-robbing capital of the US, Charleston, heists are a way of life and a family tradition. When Doug's quasi-brother James Coughlin (Jeremy Renner) becomes increasingly violent and ruthless during these raids, he catches his fellow felons unawares, and takes a bank manager, Claire Keesey (Rebecca Hall), as hostage.  While she gets out of this ordeal physically unharmed, Doug follows her, and subsequently gets to know her, to find out if she is a threat to their anonymity. It is during this time he realises he wouldn't mind getting in her vault, though his unshakeable links and obligations in the criminal hierarchy, and his secret accountability for her traumatic experience, hinders his ambitions of a fresh start.
Rebecca Hall, as the unpretentious and lovely Claire, is engaging and authentic. She plays a down-to-earth, intelligent character and the knowledge that Doug partook in her ordeal results in anxious viewing.  She is not a fool but she is vulnerable, and Hall effectively portrays her susceptibility, leaving a feeling of unease. Affleck's character remains constant in the two divergent settings, the dark menacing underworld and the breezy, contented homeliness offered by Claire. Although following the cliché of a decent "I had no other choice in life" offender, Affleck sufficiently presents the uncultivated swagger of someone from the wrong side of the tracks, but also the smitten-ness of someone recently infatuated. Empathy towards his character is boosted via the small but powerful performance of Chris Cooper, as Doug's incarcerated father, Stephen MacRay. His venomous words validate Doug's transgressions. As the unpredictable and uncontrollable James, Renner is exceptional. He depicts a dim, selfish and unruly fool basking in reckless abandon, posing a threat to Doug's wellbeing and happiness. Similarly feral, Doug's ex-girlfriend, and Jem's sister, Krista Coughlin, played by Blake Lively is convincingly self-centred, sliding easily into the role of ill-educated, socio-economically deprived, young single mother. Mad Men star Jon Hamm rounds out the strong cast as the skilled yet frustrated FBI Agent Frawley, but he is no Tommy Lee Jones in The Fugitive.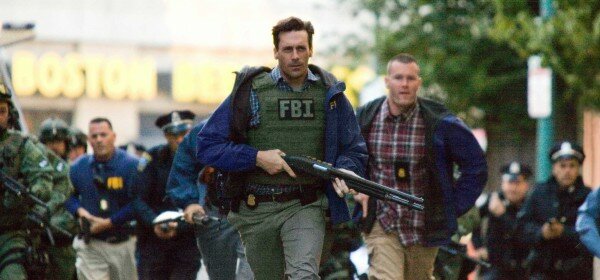 As engaging as The Town is, some elements don't quite gel, falling under the heading of implausible or underdeveloped. Like many clichéd action films, the characters get out of some pretty dire situations, under some pretty unlikely circumstances. Furthermore, a belated Godfather-like figure, the skilful Pete Postlethwaite as Fergus "Fergie" Colm, left the "interwoven quagmire of crime" revelation a little too late. Up until this point, Affleck and his robber buds seem like an independent group.
Not carried by the usual blockbuster effects with never-ending, overdone car chases, stylized violence and explosions — which, personally, I quickly find tiresome — The Town succeeds because it keeps the focus on the story and characters. As such, these tough-man showy factors are used more so to create and sustain suspense, rather than soak us in testosterone for extended periods. Entertaining a wide audience, The Town banks on major elements of heist action films, and forbidden love stories, with great success.
Verdict:
It traverses familiar ground, but The Town remains a thrilling and engaging ride. Adding to its praises is an unexpected sense of humour.
Related Posts: