The Voyage of the Dawn Treader, the latest entry in the fantasy blockbuster series The Chronicles of Narnia adapted from the novels by C.S. Lewis, posesses all the elements of a classic fantasy: an epic quest, a group of young heroes facing trials and temptations, jawdrowping visuals and, naturally, a talking lion. The film is brimming with so many fantastical elements, it risks overwhelming the story and reducing it to a special effect extravaganza. Fortunately, director Michael Apted balances the sweeping fantasy with solid storytelling, making The Voyage of the Dawn Treader a simple but entirely enjoyable family-friendly adventure.
The story picks up some time after the events of the previous instalment, Prince Caspian, and focuses on the younger two siblings of the Pevensie family, Lucy (Georgie Henley) and Edmund (Skandar Keynes). After noticing a strange portrait at their uncle's house, Lucy and Edmund are returned to Narnia along with their peevish cousin Eustace, played wonderfully by Will Poulter (Son of Rambow), and are reunited with the former Prince of Narnia – now King – Caspian, played by Ben Barnes (Dorian Gray) and sword-swinging mouse Reepicheep, voiced by Simon Pegg (How to Lose Friends & Alienate People). Joining Caspian's royal ship The Dawn Treader under the captaincy of Drinian (Australia's Gary Sweet), the now teenage children are quickly embroiled in an epic odyssey to recover the lost magic swords of the Lords of Narnia.  Under the orders of Narnia's resident lion deity Aslan (voice of Liam Neeson), they must investigate a mysterious evil emanating from the appropriately named Dark Island.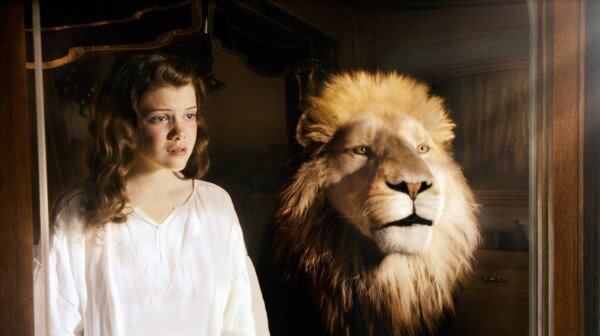 From here, the film flows fluidly from adventure to adventure as our heroes encounter everything from sea serpents to invisible gnomes, engaging in all sorts of swashbuckling and magical intrigue along the way. Supported by excellent production values, these visually rich sequences are entertaining and the pacing holds well throughout, the three screenwriters sucessfully maintaining a balance between plotting and action. There is also a welcome focus on character development as each hero faces their own inner temptations and fears. For the sake of young minds in the audience, these subplots are certainly simple and carry overtly relgious connotations, but they lend an appropriate level of depth and maturity to what is otherwise a fairly light-hearted fantasy affair.
For a documentary filmmaker, Apted's handling of such a big-budget production is impressive, improving what was previously a dissapointingly hollow film franchise. Although never really pushing into the category of a great or memorable film, The Voyage of the Dawn Treader is nonetheless an entertaining escapist fable.
Related Posts: