Sitting through Jonathan Liebesman's Battle: Los Angeles is akin to watching your friend hog the controller to Halo for two numbing hours — he has all the fun, while you're left twiddling your thumbs.
Aliens have invaded Los Angeles, and since Will Smith is on vacation, it's left up to SSgt. Michael Nantz (Aaron Eckhart; Rabbit Hole) – who, surprise surprise, is just days from retirement — and his ragtag platoon to defend the front line. A cross between the machines from Terminator and the prawns from District 9, these aliens are merciless weapons of war hell-bent on obliterating Earth's "indigenous population". Now, if only they could aim straight…
So, to clarify: Marines are good (Enlist now!). Aliens are bad (Kill now!). With that distinction made, feel free to put your brain to rest, because all that remains is endless bouts of shouting, shooting and, if you're in the audience, sighing.
But who's shouting at who? Who's shooting at what? Where are they shooting from? Which way is up? I'm sure there's an epic battle going on here, but it's hard to tell when the cameraman is too busy shaking off a swarm of angry bees to capture any of it. Heck, even if he did manage to point the camera at something of interest, the shot has been edited down to the point where its presence in the film is borderline subliminal. I don't doubt these aliens are state-of-the-art digital creations, but why bother when they're only going to be seen for milliseconds at a time? These marines could have been shooting at a bunch of googly-eyed sock puppets and I wouldn't have raised an eyebrow.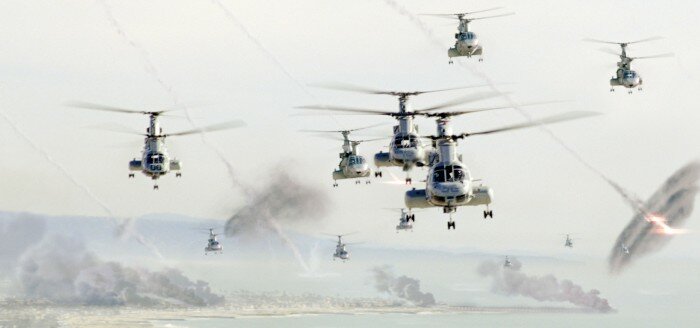 Screenwriter Chris Bertolini is of the opinion that characterisation is unnecessary if squad members can be distinguished through ethnic stereotypes. Of the dozen or so soldiers seen on screen, SSgt. Nantz is the only character with evidence to suggest he existed prior to the invasion, as we are told – but never shown – that he lead his previous platoon to their untimely demise. This creates just enough animosity in the group to ensure that when they're not been shot at, they have something to say to each other besides "Ooh-rah!"
Kudos to whoever suggested Aaorn Eckheart for the lead role. The chiseled performer lends the film a much needed human presence that might have been likened to Tom Hanks' acclaimed turn in Saving Private Ryan had this not been, you know, a tacky alien invasion movie. The only other notable cast member is Michelle Rodriguez (Avatar), who stands out because she's female and because she's Michelle Rodriguez. Is there no other actress in Hollywood capable of wielding a machine gun?
In interviews, Liebesman has said his primary goal was to make the most authentic war movie involving aliens he possibly could. To his credit, he's succeeded: war is hell. So is this film.

Follow the author Anders Wotzke on Twitter.
Related Posts: