'Happy' is a lovely, jovial word that becomes something quite vile and abhorrent when followed by the word 'Madison'.  If you didn't know, Happy Madison is Adam Sandler's very own production company, an amalgamation of Sandler's 90s hits Happy Gilmore and Billy Madison. The company ostensibly came about in 1999 when Sandler began to observe the rising success of spam emails, realising that the very same distribution model and quality standards could be profitably applied to cinema. So Happy Madison was born, specialising in films of the inane, unpleasant and unfunny variety such as, but not limited to, You Don't Mess with the Zohan and Grown Ups. Certainly, Happy Madison is the reason why humourless people such as Rob Schneider and Kevin James still have careers. Heck, Happy Madison is the reason why humourless people such as Adam Sandler still have a career.
This brings us to HM's latest triumph Just Go With It, or as it should be titled, Just Avoid It. Based on the stage-adapted 1969 film Cactus Flower, which won Goldie Hawn a best supporting actress Oscar, Just Go With It had the potential to be an amusing farce about a man's attempt to court a younger woman using an elaborate, snowballing lie. But alas, that was before the Happy Madison logo reared its ugly head during the opening credits, a sure sign that this was going to be just another dumb Adam Sandler movie in which a poo joke is inevitably followed by a swift crotch kick. And wouldn't you know it, there's also a gay jibe to boot!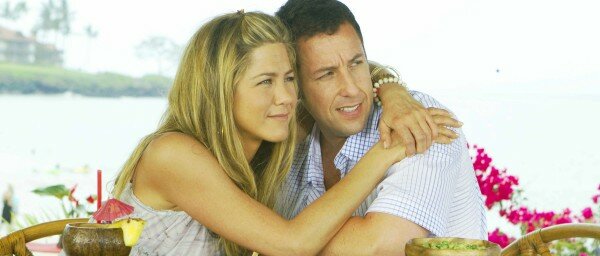 Sandler stars as plastic surgeon Danny, who despite being unmarried, wears a wedding ring to clubs and lies to gorgeous women about how his drug-addicted wife beats him, hoping that it'll result in a one night stand. Being the terribly chauvinistic movie this is, it usually does. But when Sandler meets The One – defined, of course, by the depth and breadth of her knockers – in 23-year-old Palmer (Brooklyn Decker), the ring has the opposite effect and scares her away. In order to win her back, he does what he does best and blatantly lies to her, saying that he is currently getting a divorce from his (faux) wife. To sell the lie, he persuades his office assistant Katherine (Jennifer Aniston; The Bounty Hunter) to play the role of his bitchy ex-wife for a dinner date with Palmer. But when Katherine accidently lets it slip that she has two young kids, Palmer naturally assumes they're also Danny's, causing the lie to grow out of hand.
Sadly, hilarity does not ensue. At first, I struggled to differentiate between moments of intended satire and moronic screenwriting gaffes, such as when the initially astute Palmer sees straight through Danny's first lie, yet in a later scene, barely raises an eyebrow when he can't name his own children. We're also told she is a sixth grade school teacher, which is a terrifying thought considering she's the kind of gal who'd confuse Iran for a shoe store. Could this be a commentary on America's flawed education system (a la Waiting for "Superman"), or is it just lazy writing? Considering this was co-written by The Dilemma's Allan Loeb, and limply directed by I Now Pronounce You Chuck and Larry's Dennis Dugan, it's almost certainly the latter.
But the issues with Just Go With It don't end there. Like last year's Dinner for Schmucks, this is a film that attempts farcical comedy, but doesn't understand it. It sets up absurd situations, yet insists they play out with genial rom-com characters rather than the outrageously over-the-top caricatures that are required. Sandler's Danny is a deceitful and disrespectful womanizer who is willing to belittle his friends in order to bed a hot blonde, so why is he sympathetically portrayed as a decent bloke with good intentions? The film would function a lot better as a farce if we loved to hate Danny, eagerly anticipating the moment his elaborate plan would fall apart.
To be fair, Aniston gets the tone right during an early scene where she is first introduced as Danny's ex-wife, successfully overdoing it for a few chuckles. As someone who seemingly finds her scripts by rummaging through Katherine Heigl's rubbish bin, this may be the most tolerable she's ever been on the big screen.  Still, it's a late appearance by Nicole Kidman that demonstrates what Just Go With It could have been. Kidman fully embraces the film's farcical nature as Devlin, Katherine's high school nemesis who is so deliciously detestable, you wish the camera would just follow her instead of the mumbling, monotone Sandler.
But even Kidman's character is eventually undermined by typical rom-com schmaltz, which sees the film part ways with forced "happily ever after" sentiment despite the numerous liars and A-holes that occupy it. Just Go With It lives up to everything a Happy Madison production promises, which is to say not much.

Follow the author Anders Wotzke on Twitter.
Related Posts: