If I ever needed a reminder as to why I love the art of film, I needn't look further than Robert Connolly's (Three Dollars, The Bank) political thriller Balibo.  Based on the true story of the five Australian journalists who went missing weeks prior to Indonesia's invasion of East Timor in 1975, Balibo is a momentous piece of storytelling, driven by powerhouse performances and sublime direction. Emotionally engaging from start to end, this is a profound cinematic experience that sheds damming light on a 34 year old blind-spot in Australasian history.
Don't feel at all like you need to be familiar with the true-life events that took place in Balibo, a small village in East Timor  that sits 10km from the Indonesian border, to appreciate what Connolly's film has to offer. I myself knew very little about the Balibo Five going in (having been born 14 years after the events occurred).  I knew even less about the sixth journalist, Roger East, who went to East Timor three weeks after the disappearance of the five journalists to investigate. Portrayed with great confliction Anthony LaPaglia (Without a Trace, The Bank), East is not immediately glorified as a journalistic hero in David Williamson and Robert Connolly's screenplay. He's introduced as a chain-smoking alcoholic, who appears to have given up his years of experience as a foreign correspondent to lead a simpler life.  This changes when future East Timor president Jose Ramos-Horta (a standout Oscar Issac), then a charismatic scholar desperate to save his country from the impending Indonesian occupation, offers him a job managing the 'free' press in Timor. Declining at first, East changes his mind when Ramos-Horta informs him of the five missing Australian journalists – Greg Shackleton (Damon Gameau), Tony Stewart (Mark Leonard Winter) and Gary Cunningham (Gyton Grantley) of Channel 7 news and Brian Peters (Thomas Wright) and Malcolm Rennie (Nathan Phillips) of Channel 9 – who went to Timor in the hope of filming the unsanctioned Indonesian invasion.  Since the Australian government has turned a blind eye to their disappearance, East decides to follow the trail of the young journalists, determined to discover their fate.
The narrative brilliance of Balibo derives from the way in which it frequently, yet seamlessly, cuts between Roger East's investigation and extensive flashbacks of the five journalists as they traverse the same terrain four weeks prior. Authentically portrayed, we grow immensely fond of these people; on camera they are professional reporters, bravely acting as the spokespeople for the East Timorese and their plight. Off camera, they are genuinely relatable Aussie larrikins, lapping up the tropical sun and sharing stories with the children of local villages. It's only as they draw closer to Balibo, where Indonesian battleships loom just off the coast, that the dangers of wartime journalism become all too real.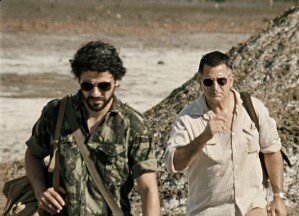 It's at this moment that Balibo shifts well into gear and reveals itself as a gritty thriller. In what is by far the most tense and traumatic piece of cinema I have witnessed in years, the journalists find themselves caught on the frontline of the Indonesian invasion, forcing them into hiding as the ruthless militants occupy the village. Connolly skillfully utilises our invested interest in the these characters to gut wrenching effect, made all the more impacting due to Tristan Milani's fluid handheld camerawork that centres us in the action. What transpires is now ingrained in history, despite the Australian government's desperate attempt to have it buried as it would add further criticism towards their acquiescence of the Indonesian invasion.
As Connolly states himself, "Balibo is a story that demands to be told". But it in the wrong hands, it could have been a disaster. It could have easily been another Pearl Harbor; a pretentious, overacted and unengaging film that's more concerned with the box office than it is informing its audience. But aside from one oddly patriotic moment during the film's affecting conclusion that almost sees LaPaglia break the forth wall, there's not a pretentious bone in Balibo's body. It's clear that Connolly went to great lengths to authentically bring this story to the screen, not only by adapting it from the book Cover Up, Jill Jolliffe's in-depth case-study of the Balibo Five, but also by consulting with East Timor/Australian relations specialist Dr. Clinton Fernandes. Yet this is not simply a lesson of the past; Balibo's alarming observations of wartime journalism, as well as its critical look at the peacekeeping role of state governments and the United Nations, still greatly resonates today. But what makes Balibo essential viewing is that, on top of its past and present significance, it also happens to be one of the most captivating and thrilling films in years.
Verdict:
In what has already proven to be a stellar year for the Australian film industry, Robert Connolly's Balibo – a truly haunting, edgy and enthralling political thriller -manages to raise the bar even further. This is Australian filmmaking at its most supreme.
Read our exclusive interview with Balibo director Robert Connolly and actor Damon Gameau (who plays Greg Shackleton) here.
- Originally posted July 16th, 2009.


Follow the author Anders Wotzke on Twitter.
Related Posts: