If history is anything to go by, the biopic story of seventies all-girl band The Runaways has more meat on it than any filmmaker could dream to mine. Spice it up with kid actress Dakota Fanning's need to prove she's a grown-up prime fillet – as the cherry bomb herself, Cherie Currie- and Kristen Stewart's first real chance to break free from The Twilight Saga phenomenon, spectators will find themselves on a surprisingly wild ride of sex, drugs and rock'n'roll. Truthfully, what really sucks is that the actresses are on fire but the screenplay is not worthy of burning up, leaving out juicy tidbits of the true story and important characters altogether.  Adapted and Directed by Floria Sigismondi and based on lead singer Cherie Currie's autobiography Neon Angels, comes a raw exhibition of the chronicles and consequences of rising fame, and the toll of the rock star lifestyle.  Following the band's formation, first American tour, a trip to Japan and the demise of the original line-up resultant of Currie's drug addled implosions, The Runaways does a surprisingly good job at portraying the boys club mentality and risqué temptations of seventies glam and punkish rock.
This film is worthy of viewing purely for Fanning and Stewart as Cherie Currie and Joan Jett. It is so easy to be gripped by Dakota Fanning's natural ability to play an over-sexed blonde bombshell. The uneasiness you feel watching this is provoked by her prolific identity as a more commonly known child star, although this accentuates the story – the girls of the Runaways were fifteen upon formation and barely sixteen by the time their record sold. Essentially, Dakota Fanning's own predicament as a young woman with such a sexually heightened role is a spot-on mirror for the way the girls of the band were sold to audiences, at the hands of screwball manager Kim Fowley. Fowley is a perfect mix of sass and the scary side of sexual liberation thanks to Revolutionary Road actor Michael Shannon. It is Kim Fowley's gusto in refining their image as jailbait that moulds Currie on Bridgette Bardot and gives the band a pin-up girl to contrast the badass and black leather that is lead guitarist Joan Jett. Oh and there are also a few other chicks in this band but here, they unfortunately do not seem to matter…
In fact, the biggest downside to this film lies in that Arrested Development and Whip It star, Alia Shawkat was cast with less than a cardboard bass playing cut-out in mind; her character of Robin is entirely fictional, a mash up of all five of the girls who played bass for the band at some point or another. Shawkat is left with hardly a word to say, which is crap considering she has already proved she can hold her own acting alongside more accomplished actors. Scout Taylor-Compton does well as Lita Ford on guitar and Stella Maeve hits with sticks as one of the best female drummers ever, Sandy West.
That said, The Runaways truly is Kristen Stewart's film – her proving ground for shedding her Bella coat and respawning as an actress with actual expression. Instantly it is her bad girl swagger, her slack guitar posture and her growly vocals that take this film to the next level. She portrays the movement, attitude and expression of Joan Jett perfectly as she flexes her character through the foundations of becoming the queen of rock and the inspiration for the Riot Girrrl movement of the 90s. Unlike the "sad face" and jittery nature of Bella Swan, Stewart as Jett appears so comfortable and in control, evoking the character of Shane from The L Word to such an extent that she is destined to break hearts – the hearts of other girls. Whilst the Runaways proved you can revolt with three chords and paved the way for such acts as Bikini Kill, Bratmobile and Peaches, Kristen Stewart shows that this is possibly her big F#@* You to the role as Bella that made her famous; In this one movie, she works with Fanning to display more emotion and true devotion to each other than anything within the awkward love-triangle between the sparkly vamp and what's-his-name, and they have had three films to try and get it right.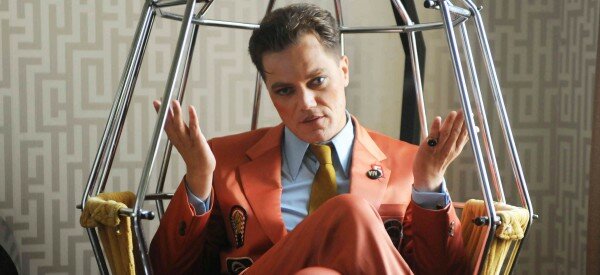 Alright, so Floria Sigismondi has delivered a far from perfect movie here and should probably just stick to directing music videos for Muse and Marilyn Manson unless she learns that yes, complexity in narrative and character are beneficial. However, the harsh consequences of addiction and the sexploitation of young girls are thematically powerful enough to pull fantastic performances from the leading ladies, looking past the reality of leaving the Runaways other true stories AND their band mates behind.
Verdict:
This doesn't compare to other music films like Crazy Heart or Ray, but if you think of it as the music equivalent of what Whip It was to sports films then you will have a good time.  Dakota and Kristen are almost flawless although twilight fans will be shocked to see them making out – with each other. Kudos for Joan Jett and her role as executive producer.
Related Posts: