Anyone with a heart condition would be wise to steer clear of Scott Pilgrim vs. The World; a film with such dangerously high levels of frenetic energy, it's as if Speed Racer crashed into Kill Bill while under the influence of Kick-Ass. And that's a good thing, if you're feeling up to it.
Made specifically for gamers, geeks and indie hipsters, Scott Pilgrim is a giddy adaptation of Bryan Lee O'Malley's acclaimed series of pop-culture parodying comics that, above all, pays homage to the world of 8-bit videogames. It's a zany genre-mash that could have gone oh-so very wrong in lesser hands, but under the stylistically gifted eye of British director Edgar Wright, things work astonishingly well; Scott Pilgrim is exciting, innovative and utterly hilarious in ways I suspect many adults will struggle to appreciate.
Michael Cera stars as Scott Pilgrim, a loserish 22 year-old bass guitarist so strapped for cash he awkwardly sleeps in the same bed as his gay roommate (Kieran Culkin). To overcome the heartbreak of a previous relationship, Scott decides to date an excitable 17 year-old schoolgirl named Knives (Ellen Wong), only to have the girl of his dreams, Ramona Flowers (Mary Elizabeth Winstead), skate into his life shortly after.  Knives is cast aside when Scott falls madly in love with Ramona's alternative indifference, blissfully unaware that she has some serious baggage; seven evil ex-boyfriends that Scott must defeat if he wants to win her over.
Oh, and each ex has superpowers. As they do.
We've seen dozens of comic-adapted movies over the years, but what's particularly unique about Scott Pilgrim is that it's the first to truly take the visual stylings of both videogames and comics and reproduce them simultaneously on screen. For instance, scenes are often broken up into comic-book panels. Characters have visible health bars, hit points and power ups. Loud action sounds are accompanied by onomatopoetic words like "WOOOSH" and "BLAM".  Giant pixelated hammers are inexplicably pulled out from tiny rucksacks.  And, of course, the laws of time, gravity and human anatomy only tend to exist when things are quiet. Which is never.
Simply put, it's completely absurd. But that's the point. As he demonstrated with Shaun of the Dead and Hot Fuzz, Edgar Wright is the master of capturing and sustaining a hilariously bizarre tone. The screenplay, co-written by Wright with actor Michael Bacall (Inglourious Basterds), wastes no time getting to the punch and doesn't stop punching once it gets there, discharging jokes – both visual and verbal — like a chain gun with the trigger glued down. It's only in the last 15 minutes or so that the action grows tiring and viewer-exhaustion sets in. Was it really necessary to have as many as 7 evil exes? Couldn't it have done with just 4 or 5?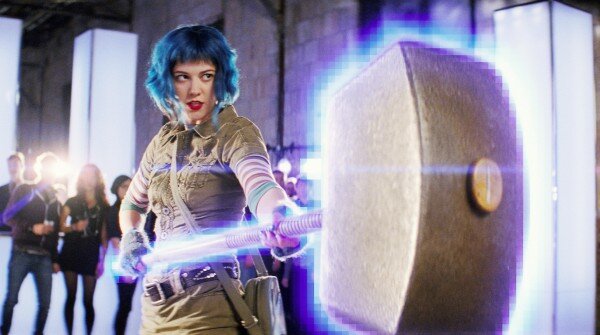 As overused his 'awkward teenager' routine is, Michael Cera nails the wry self-depreciating commentary as Scott, grounding a film that is otherwise away with the pixies. Mary E. Winstead (Die Hard 4.0) has her own gravitational pull as Ramona whenever she's on screen, which is surprising given how little she actually does while she's there.  Of all the evil exes, Chris Evans (The Losers) steals the show as the bimbo action movie star Lucas Lee, perking the interest of a memorable Kieran Culkin (Paper Man) – yes, Macaulay's younger brother — as Scott's promiscuous gay best friend Wallace. Rounding out the primary cast is promising newcomer Ellen Wong as Knives, Scott's jealous ex-girlfriend who isn't ready to let go of her crush.
So who will Scott ultimately choose, Ramona or Knives? More to the point, who cares? Their love triangle might underpin the entire movie, yet it's hardly what drives things forward. Favouring style over substance is generally a dealbreaker in movies like this, but then again, it's not often you see style this substantial.

Follow the author Anders Wotzke on Twitter.
Related Posts: