As the 14th film of their celebrated career, Joel and Ethan Coen's A Serious Man might just be their most accomplished, yet least accessible, work to date. It doesn't boast a big name cast like Intolerable Cruelty and Burn After Reading. It's not out to make Oscars like Fargo and No Country for Old Men (although it's certainly not out of the question). Instead,it's a minor work from the brothers akin to Barton Fink and The Man Who Wasn't There that endeavours to question the likes of religion and morality in its bleak depiction of 1960s Jewish suburbia. Just don't go in expecting to be fed the answers to these questions, as not knowing is the whole point; life is full of uncertainties, and as the Coens superbly illustrate, that's what makes it so funny.
A Serious Man begins so obscurely that you'd be forgiven for thinking you walked into the wrong cinema. Set many years ago and spoken entirely in the Yiddish language, this prologue tells of a Polish husband and wife who (possibly) encounter a demonic spirit know in Jewish folklore as a Dybbuk. It's certainly interesting to watch unfold (the Coens dialogue is delectable in any language), but what relevance it has in regards to the rest of the film is deliberately vague.
Fast-forward to 1967 — a time when Jefferson Airplane's "Somebody to Love" filled the airwaves and tract housing was still spreading like a virus — and meet Jewish family-man Larry Gopnik (Michael Stuhlbarg), a Physics professor at a Midwest American college who ironically specialises in the theory of uncertainty. His theoretical know-how, however, comes in absolutely no use when his life takes a sudden turn for the worst. Firstly, his application for tenureship is being undermined by a flow of disapproving letters sent to the college committee. These letters may or may not be sent by an Asian student who may or may not have bribed him for a passing grade.  At home, his son Danny (Aaron Wolff) has taken to smoking marijuana in the lead up to his Bar Mitzvah, his teenage daughter Sarah (Jessica McManus) is stealing money from his wallet and his older brother Arthur (Richard Kind) spends his days sleeping on the couch  when he's not draining his massive cyst in the bathroom. If that's not enough, his wife Judith (Sari Lennick, wonderful) has unexpectedly announced her desire to divorce so she can be with an older, more 'serious' man by the name of Sy Ableman (Fred Melamed). Sy's late wife, as everyone keeps pointing out, "is barely cold".
All this would equate to one of the most dark, depressing films of the year if weren't for the Coens ingeniously funny, yet sincere, screenplay. The dire situations Larry constantly finds himself in are certainly exaggerated but not quite parodical, which is how they manage to be both relatable and funny at the same time. Like Larry, all of us have at some point looked for clarity and guidance from our faith, family or friends and come out feeling more lost than before. Behind the intricately woven comedic veil, A Serious Man is loaded with so many observations of the human condition that would take multiple viewings to unearth all of them. It's a personal film in many ways — the Coens were raised in a similar Jewish suburb in Minnesota and both their parents were  college professors – yet it speaks universally.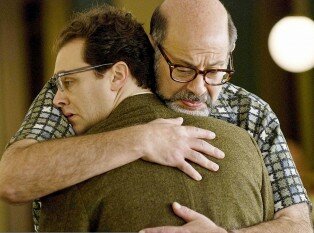 Joel and Ethan have crafted some truly memorable characters over the years — think The Big Lebowski's 'The Dude' (Jeff Bridges) and No Country for Old Men's psychopathic killer Anton Chigurh (Javier Bardem) — so it should come as no surprise that the characters in A Serious Man are instantly likeable, or likably loathable, from the moment they're introduced. Larry is a bit of both; he has so much integrity, it's almost pathetic. We stick by him thanks to the sheer empathy Stuhlbarg's performance evokes, not to mention his sublime comedic timing. Melamed makes a memorable impression in support as Sy Abelman, a man whose deep, syrupy voice would make Barry White wince. Everyone else is stereotyped to perfection; the ancient Jewish Rabbi (Alan Mandell) who can barely speak let alone give advice, the divorce lawyer (Adam Arkin) whose sympathy costs by the hour, the dangerously sassy neighbour (Amy Landecker) on one side of the fence and the red-neck Gentile (Peter Breitmayer) on the other.
Despite being directed by two of the most respected names in cinema, A Serious Man is only in limited release across Australia. That's because the film — with its no-name cast, relentlessly bleak tenor (despite injections of humour) and a potentially maddening indistinctness — will likely scare off  mainstream moviegoers. And that's their loss.

Follow the author Anders Wotzke on Twitter.
Related Posts: