You know the creative pool in Hollywood is running dry when they start risking millions to exhume old franchises such as The Green Hornet, a superhero no one was particularly crying out to see on the big screen. What's even more desperate is their bizarre decision to cast Tinseltown's resident stoner, Seth Rogen, as said superhero and placing quirky art-house director Michel Gondry at the wheel. Couple that with a last-minute (and completely pointless) 3D conversion and you've got yourself some very, very low expectations.
And that's ideal, really, because low expectations means you'll struggle to be disappointed by the intermittent fun The Green Hornet has to offer. There's just enough novelty, action and comedy in the tank to see this film teeter across the finish line, even if it does cough and splutter for much of the journey.
Mind you, I'm still not convinced Seth Rogen (Pineapple Express) was the right man to play protagonist Britt Reid, who has been reimagined in this adaptation of the original 1930s radio series as an unambitious (and largely unlikeable) playboy man-child who mooches off of his newspaper-publishing father James Reid (Tom Wilkinson; Duplicity). When James suddenly dies from an allergic reaction to a bee sting, Britt is unwillingly left in charge of his empire, and out of contempt for his unsupportive father, he fires all of his staff except Kato (Jay Chou; Kung Fu Dunk), whom is spared because he makes a killer cup of coffee.
But Kato is more than just a skilled barista; he's also a talented mechanic, unmatched weapons expert and an extraordinary martial artist who can seemingly defy the laws of time and space. In other words, he's a superhero just waiting to happen, albeit a superhero of the Tony Stark and Bruce Wayne variety in that he doesn't have any actual superpowers. Realising his ass-kicking potential, Britt teams up with Kato to help fight crime within the city by assuming the identity of The Green Hornet.  Instead of saving damsels in distress, their strategy is to pose as criminals out to challenge the authority of neurotic kingpin Chudnofsky (Christoph Waltz; Inglourious Basterds) by destroying his many operations, effectively cleaning up the city in the process.
I should also mention that Cameron Diaz is in this movie as Britt's secretary Lenore, but her role is so superfluous, I couldn't find a suitable way to squeeze her into the above synopsis. So as consolation for her neglected screen presence, she receives a paragraph all to herself. Congrats, Cameron!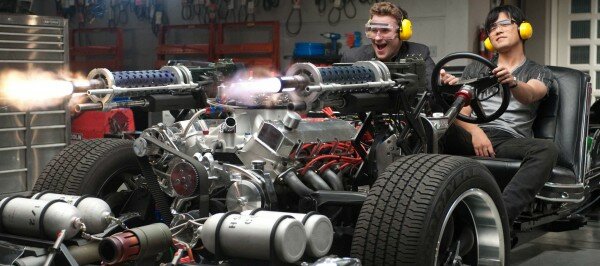 Anyways, after Britt and Kato embark on their crime fighting escapades, the film has the potential to go in one of two considerably different directions. The first is as an off-beat comedy (à la Kick-Ass) in which these two wannabe superheroes constantly fumble in their ability to do good whilst pretending to be bad, while the second is a more classically dramatic film (à la The Dark Knight) in which the line between right and wrong is blurred to the point where Brett and Kato aren't certain which side they stand. Instead of choosing just one of these paths, The Green Hornet tries for both — stupid and serious, surreal and real. It's what you'd call a safe bet by screenwriters Evan Goldberg and Seth Rogen (yes, he writes too), who are evidently aware that if you embrace stupidity too readily, you risk coming across as puerile and incompetent (à la Joel Schumacher's Batman & Robin). On the other hand, if you try to be too solemn, you risk making a film that is dull and uninviting (à la Ang Lee's Hulk). By sitting on the fence, The Green Hornet escapes the pressures that come with committing to something more ambitious, but it does come at the cost of feeling half-baked and inconsequential.
It's a shame because Gondry is usually such an innovative director. Although he does lend his artistic flair to a few solid action sequences and montages – one of particular brilliance showing the dissemination of information within the criminal underworld – Gondry ultimately bows to the pressures of making a generic Hollywood movie with green aspirations.
Still, The Green Hornet's sting is hardly lethal. At the very least, it's amusing enough to serve as a welcome distraction from this unusually wet summer, particularly if loud and frenetic action sequences get you buzzing.

Follow the author Anders Wotzke on Twitter.
Related Posts: