"It's what non-car people don't get," begins Top Gear presenter Jeremy Clarkson when discussing with Eric Bana (Black Hawk Down, Star Trek) their shared obsession with cars in Love the Beast. "They see all cars as a one and a half ton piece of metal and rubber. That's all they see."
Clarkson's right. As someone who views cars as little more than a mode of transport, I struggle to relate with Bana's quarter-century love affair with his 1974 Ford GT Falcon Coupe. Love the Beast is a solid film about car lovers, for car lovers. Unfortunately, I'm not one of them.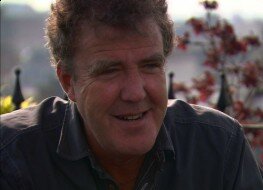 But even though I mightn't share his passion, there's a lot to admire about Bana's unpretentious directorial debut. Rather than being an excuse to flaunt his Hollywood status for an hour and a half, Bana provides some welcome insight into how he spends his time outside of his acting career.  He speaks of his close relationship with his family and his three high-school friends, explaining how the Falcon acted as their "campfire" when growing up in the industrial suburbs of Melbourne.  Outside of his inner circle, Bana talks casually with fellow car loving celebs such as Jeremy Clarkson, late night presenter Jay Leno and even Dr. Phil, each whom humorously attempt to rationalise Bana's fixation with his 'Beast' .
Yet once the GT Falcon leaves the garage and takes to the track, the film loses its momentum as an insightful documentary and becomes somewhat of sports telecast. A great deal of Love the Beast is spent following Bana around the race track, in particular the  five day Targa rally that weaves through the scenic, but treacherous, Tasmanian landscape. For motor sport enthusiasts, these well edited in-car sequences overlayed with the tense dialogue between Bana and his navigator Tony would probably prove quite thrilling. For everyone else, these overlong sequences are likely to grind at your interest as the narrative flow of Love the Beast starts to tail off course.
Yet when Bana makes a miscalculation and does end up drifting off the Targa rally course, the film shift back into gear. It wouldn't be a love story if the highs weren't equally met by lows, and Bana's relationship with his 'Beast' is no exception. Even though he is lucky to escape the crash unharmed, Bana shows more concern for his beloved car than himself, stating "I would much rather have a broken arm and be in crutches for a few months than this".
Two days later, he's forced to put on a brave face and attend the premiere of his film, Lucky You, in New York with his co-star Drew Barrymore. Attacked by a wall of camera flashes and a sea of jostling journalists probing him for a statement regarding his "great hair", there's little wonder why Hollywood celebrities find such solace in their personal pursuits. As such, there's a sense of irony about the fact that Eric Bana has made a film about his love of cars.  But whilst automotive enthusiasts have every reason to Love the Beast as much as Bana does, those who simply "see cars as a one and a half ton piece of metal and rubber" won't be so affectionate.
[rating: 3/5]

Follow the author Anders Wotzke on Twitter.
Related Posts: