Whilst romanticised films about the Australian bush exist aplenty, there are few that portray the threat and direness associated with living a historically 'bush' way of life. There are also few films which question the fortune of those who decided to resettle in Australia. However this is what Lucky Country, the new Australian thriller by director Kriv Stenders (Boxing Day, Blacktown), encompasses. This film lives up to its thriller status with edgy characters and grisly moments. Set in 1902, it follows the lives of a small family who live in an isolated region in the Australian bush, their residence a small cabin enclosed in a dense landscape of flora and fauna. It is this landscape, conveyed as a malevolent omnipresent force that constantly watches those within, which is the backdrop to Stenders tense creation.
Nat (Aden Young), a landowner struggling to keep hold of the entirety of his property, is the father of bright-eyed 12-year-old, Tom (Toby Wallace), and grim teenager, Sarah (Hanna Mangan Lawrence). We discover they are grieving the recent loss of the family's mother with subsequent depression, due to the loss of his wife, tainting Nat's relationship with his children. Tom is beginning to understand his father's loss is causing a rift in their family, and Sarah wants to leave the household for a more conventional married-life, unforgiving of her father for committing her to such a gruelling existence. The arrival of three ex-soldiers, Henry (Pip Miller), Carver (Neil Pigot), and the deathly-ill Jimmy (Eamon Farren), bodes well for Nat and Tom, who see the men as a potential aid to the struggling household. Sarah, her initial distrust of the men blatantly apparent, soon takes interest in young Jimmy, who is hiding gold from his travelling partners. When a psychologically and physically-deteriorating Nat discovers the secrets of the nascent relationship and the gold, he sends the men on their way, but attempts to steal the gold as a last resort to save his land. This decision sparks a dark feud among the family and the men, and nobody is left intact.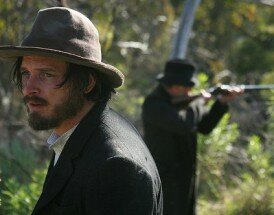 Lucky Country may not be your traditional thriller, but it certainly manages to disturb, and not just through gore alone. Perhaps this is because we are so used to Australian settlers being depicted as heroic, hardworking and fortunate personalities; so observing them as greedy and depraved individuals goes against the grain. Nat's severe pain over his wife's death is well executed by Aden Young, and his decline into psychosis is eerily similar to that seen in The Shining. Toby Wallace is outstanding as the innocent yet knowing Tom, and Sarah and Carver's brittle encounters are superbly nuanced with strong sexual tension and fear. The dialogue is a little clunky, but this is redeemed by strong performances from the cast.
Verdict:
An unusual and edgy Australian thriller from director Kriv Stenders, which encapsulates the isolation and desolation of a settler's existence.
Lucky Country opens across Australia on July 16, 2009.
- Review originally posted June 15th, 2009.
Related Posts: