By all accounts, The Tourist sounds like the perfect cinematic getaway. It stars two of Hollywood's most beautiful actors, Angelina Jolie and Johnny Depp, and is set in one of Earth's most beautiful locations, Venice. It also boasts action and romance, with a hint of comedy.
So why, dear reader, was I squirming in my seat like an earthworm on hot concrete?
Well, the chair was uncomfortable for one. But more to the point, The Tourist is a film that promises so much, yet delivers so little — little thrills, little romance, little comedy and little entertainment. It's about as much fun as standing in line at Customs for hours after a long-haul flight… all you want to do is to get the hell out of there.
It's a disappointing Hollywood debut for German director Florian Henckel von Donnersmarck, a name that makes one incredibly grateful for the computer's copy and paste function. It's also a name that was called up to the Oscar podium back in 2007 for the nuanced spy drama The Lives of Others, which beat out Guillermo Del Toro's Pan's Labyrinth for the title of Best Foreign Language Film. So while von Donnersmarck certainly has talent, The Tourist proves it's not in making big-budget Hollywood productions where the onus is on staging thrilling chase sequences and milking charisma and chemistry from two acting superstars. Neither, it seems, are his forte.
To be fair, the film's failings begin with the senseless story and sluggish screenplay that von Donnersmarck co-wrote with Christopher McQuarrie (Valkyrie) and Julian Fellowes (Vanity Fair). They've adapted it from the 2005 French thriller Anthony Zimmer, a film that borrows the 'mistaken criminal' hook from Hitchcock's The Wrong Man.  In The Tourist, Jolie plays Elise, a sassy Englishwoman under surveillance by Scotland Yard because her lover, the enigmatic Alexander Pearce, is a wanted criminal. Aware she is being tailed, Elise leads the police to believe that Frank (Depp), an innocent American tourist on vacation in Venice, is actually Pearce.  While her plan doesn't fool  Scotland Yard Inspector Acheson (Paul Bettany), it does convince billionaire mobster Reginald Shaw (Steven Berkoff) – another victim of Pearce's thieving – that the elusive criminal he seeks is now in Venice. As such, Frank's Venetian vacation comes with complimentary shootouts, rooftop chases and canal boat clashes courtesy of Shaw and his thugs.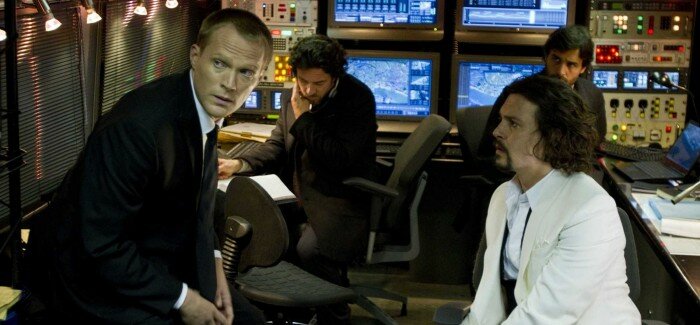 All of it sounds much more exciting than it actually is under von Donnersmarck's static, tensionless direction. Take, for instance, the aforementioned rooftop chase, which has obviously been shot against a blue screen and features repeat cutaways to characters observing the action from afar, or via surveillance monitors. Not only does this ruin the kineticism of the chase sequence, it disengages the audience and dissipates any sense of immediate danger. While von Donnersmarck rectifies many of these issues in a subsequent boat chase — which is competently staged and edited — it's too little too late for a film as bloated and poorly paced as this.
At its core, however, The Tourist is a love story, or at least it would be if Jolie and Depp shared an ounce of chemistry together. They don't, largely because the drama that brings them together is so plot-driven and the dialogue so regulated that they're never given the chance to say anything truthful to one another. It doesn't help that Jolie is portrayed as an irritating narcissist, not as a result of her performance, but because von Donnersmarck constantly draws attention to the actress's sex appeal via slow motion struts in which every male head in the room turns toward her in lustful awe. It makes the film look and feel more like an overlong Chanel No. 5 advertisement than it does an exotic spy-thriller, and not even a very alluring one at that.

Follow the author Anders Wotzke on Twitter.
Related Posts: