The after-life and film have always been dangerous bedfellows.  There have been successes (The Sixth Sense, The Others) but also disappointments (The Lovely Bones, After.Life). Sadly, Zac Efron's latest star vehicle Charlie St. Cloud, joins the list of the damned.
Charlie St. Cloud (Zac Efron) and his young admiring brother Sam (Charlie Tahan) are left to their own devices as single mother Claire (Kim Basinger, the 'Where's Wally?' of the film's veteran supporting cast) struggles to support her family. One ill-fated decision results in the deadly car crash, killing Sam, and shattering Charlie's future. Charlie is consumed by guilt and suspended between life and the after-life.  His days now strictly routinised by the pledge of baseball practice with the spirit of his young deceased brother- this obsession ostracising him from society and halting lifelong dreams. Hope returns in the form of girl-next door come ambitious sailor, Tess (Amanda Crew).
As Charlie, Efron (Me & Orson Wells, 17 Again) does his best to evoke an emotional response from an unobliging audience. There's a soft allure at play here, but it's largely overshadowed by a well-worn dialogue, and an often muddled plot. He is most at ease when his tanned guns are wrapped around his irritatingly wooden love-interest, Tess, played by the forgettable Crew (Sex Drive, Final Destination 3). Yet in such a far-fetched role, one can only forgive her vacant, bird-brained performance. An encounter between the fated couple in the cemetery, amongst their dearly departed, is an odd, yet surprisingly romantic consummation. Tahan (I Am Legend, Night in Rodanthe), as Efron's ill-fated younger brother, is at times charming, yet his 'puppy dog eyed' approach leaves us largely indifferent. The clear winner in all this is Augustus Prew, playing Charlie's comical British side-kick. Surrounded by such glum subject matter and a lacklustre cast in a film about the after-life; Prew is our lord and saviour.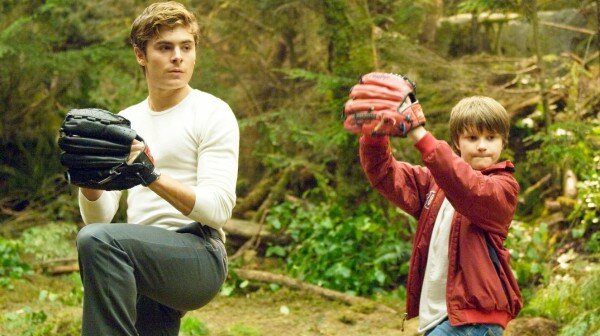 Teenage girls (and the occasional boy) will lap up Efron's steely blues, and well-chiselled physique, which director Burr Steers (Igby Goes Down, 17 Again) exploits like a six year old Taiwanese boy in a downtown Nike factory. As if entering a wet t-shirt comp — Charlie spontaneously leaps into a river — his white v-neck no longer opaque.. cringeworthy, but delicious nonetheless. This and the fact that the parentals paid for your ticket, will surely leave you on St. Cloud nine.
Now, if you are one of those parents who take their film classifications a little too literally, and feel the need to accompany a begrudging teen for PARENTAL GUIDANCE, impressive panoramic views and picturesque seaside settings are available for your enjoyment. For visuals alone – Efron including; you're never too old — this cinematic experience is almost worthwhile.
Related Posts: