South Korea's A Barefoot Dream [Maen-bal-eui Ggoom] is so saccharine that it almost gave me a toothache. Based (one suspects loosely) on the real life story of a former Korean soccer player who coached the East Timorese children's team to an unlikely international championship, everything in the film, from the over-the-top performances, cliché-riddled script, made-for-TV direction and syrupy musical accompaniment is so farcically sentimental that it makes you wonder whether the film was originally meant to be screened on Lifetime Korea, and was only accidentally chosen as the nations submission for the 2010 Academy Awards. The winner that year was Denmark's In A Better World. Not surprisingly, A Barefoot Dream didn't make the final five.
Once a rising soccer star, Kim Won-kang (Park Hie-soon) now finds himself dodging creditors and struggling to keep afloat his various failed business ventures – the latest of which is a sports equipment store and youth soccer club in the newly independent nation of East Timor. Knowing that the impoverished local children on his team will not be able to pay for boots up front, he craftily devises a plan to let them pay off their debt one dollar per day, much to chagrin of the local ruffian who also happens to be the older brother of Kim's star forward Ramos (Francisco Varela). But despite Kim's initially selfish intentions, he slowly comes to care for the children, and eventually decides to sign them up for the Youth Soccer Tournament in Hiroshima, Japan in the hopes of improving their otherwise miserable lives.
A Barefoot Dream could have been a perfectly serviceable sports movie were it not for the absurdly mawkish execution of writer/director Kim Tae-gyun (Volcano High). In his hands, the already simplistic material becomes laughable, resembling little more than a strung together sequence of obvious jokes and obvious emotional manipulation. Were the formula adhering script not cringe-worthy enough as it was, Tae-gyun uses bright lighting and slow motion photography to further telegraph without a hint of subtlety exactly the emotions his audience are meant to be feeling; the exact same is true of the overbearing, nauseatingly sugary musical score and pop-song saturated soundtrack.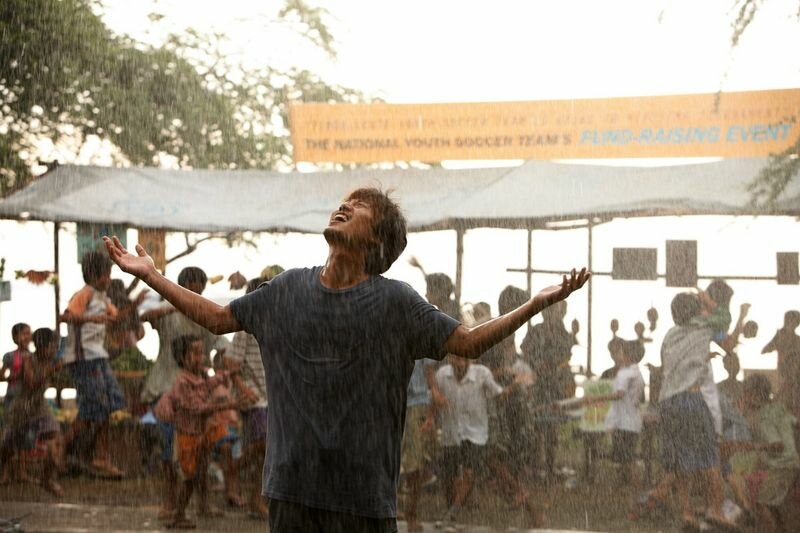 None of the characters in the film possess more than a single dimension, and spend most of their screen time crying, delivering heartfelt speeches, celebrating all too predictable triumphs, overcoming adversity or, in the case of the children, looking far cuter than any victims of malnutrition and third-world poverty have any right to appear. To their credit, the Indonesian child actors are perfectly competent, but their adult counterparts over-act like their lives depend on it. In the lead role, Park Hie-soon streaks his cheeks with tears at the slightest hint of emotion, while I swear his tooth-gritting determinism to teach the children to get along practically spills over into full-blown piss-taking.
I know I'm repeating myself, but it's almost unbelievable how sappy and soapy A Barefoot Dream really is. In spite of this, it is still arguably better than a lot the more cynical mainstream fare that Hollywood churns out every year. One thing that must be said about the film is that it is so absurdly cloying and full of heart that you can't possibly feel malice towards anyone involved. It's obvious that they tried their hardest, and even I, the most cynical of critics, cannot deny being moved just once or twice. Sadly, those moments were immediately drowned out in a golden monsoon of treacle and attainable dreams.
—
A Barefoot Dream screened as part of KOFFIA – The Korean Film Festival in Australia. KOFFIA runs in Melbourne from September 10th-13th. For more information, click here.
You can read all of our coverage of KOFFIA 2011 here.

Follow the author Tom Clift on Twitter.
Related Posts: