I suppose such ugly subject matter deserves such an ugly film, but it's disappointing nonetheless in the case of Snowtown, the unrelentingly grisly first-time feature from Australian director Justin Kurzel that struggles to build an emotional rapport with its audience.
True story or not, screenwriter Shaun Grant's dramatic retelling of the famed "Body in Barrels" murders is in desperate need of a sympathetic character who can uphold a sense of humanity, however scarce, among the seemingly endless paedophiles and murderers that occupy the film's draconian landscape. Without an anchor for the viewer, Snowtown becomes nothing more than a mildly intriguing, yet ultimately detached and pitiless portrait of psychopathy.
The anchor is intended to be Jamie Vlassakis (newcomer Lucas Pittaway), an impassive teenager who lives in Adelaide's impoverished outer suburbs with his anxious mother Elizabeth (Louise Harris) and two younger brothers.  After a neighbour sexually abuses the boys, Elizabeth pleas to her charismatic new boyfriend John Bunting (Daniel Henshall; TV's Out of the Blue) to step in and protect her family. Yet in a bid to fend off demons, Elizabeth has unknowingly hired the Devil. Bunting, a psychopathic homophobe, would eventually go down in history as one of Australia's worst serial killers, convicted of murdering 11 people between 1992 and 1999. Bunting famously stuffed the remains of his victims into barrels of acid he hid within a disused bank vault in Snowtown, a small country community some 150 kilometres north of where the murders actually took place.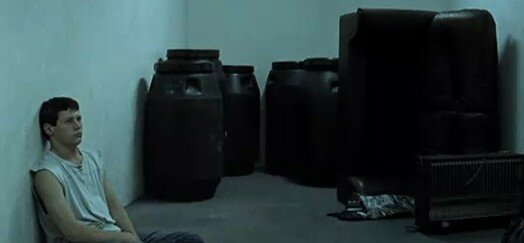 At first, Bunting is all smiles and hugs, using his effortless charm to impose his fanatical views on those around him before luring his prey like lambs to the slaughter. Henshall inhabits Bunting with chilling authenticity, subtly shifting from charming father-figure to malevolent madman without missing a beat. Unfortunately though, Snowtown is less about Bunting and more about his protégé Jamie, whose transformation from aimless teen to partner in crime is convincing, but not nearly as gripping. Jamie is almost identical to the protagonist of David Michôd's Animal Kingdom; a meat puppet whose strings are pulled by the alpha males that surround him. Yet Pittaway, one of the many non-actors in Snowtown, doesn't possess the screen presence required to connect with the audience, ultimately leaving us in the cold as the film goes from having a blackened heart to no heart at all.
Still, Kurzel's naturalistic direction should be commended, even if it's likely to prevent the film from being embraced by genre fans. The director mentioned during the post-screening Q&A that the film's detachment was intentional, fittingly referring to it as a kind of "banal brutality". That's evidence enough to say Snowtown is exactly the film Kurzel wanted it to be, just not one moviegoers will likely want to see.
—
Snowtown screens as part of the 2011 Bigpond Adelaide Film Festival. Read all of our BAFF11 coverage here.
This review was originally published March 2, 2011.

Follow the author Anders Wotzke on Twitter.
Related Posts: