If you ever plan on adopting a child, make sure you enquire about the return policy. Maybe if the Coleman family had done that in Orphan, then  neither they nor the audience would have had to endure through one of the most ridiculous,  distasteful and joyless films of the year.
Having said that, I do prefer Orphan over director Jaume Collet-Serra's debut film, The House of Wax. But that's like saying I prefer Cancer over AIDS. At the very least, Collet-Serra's film is technically more accomplished than his last effort, which is more of a credit to  cinematographer Jeff Cutter (who has since shot the Nightmare on Elm Street remake).
The first act of this exceedingly over-long film is used to develop the characters of Kate Coleman (Verna Farmiga) and her husband John (Peter Sarsgaard), who look towards adoption after a tragic miscarriage. At a nearby orphanage, they are drawn to a delightfully intelligent young girl named Esther (Isabelle Fuhrman). Over the coming weeks, they welcome her into their home, hoping that their son Daniel (Jimmy Bennett) and mute sister Max (Aryana Engineer) will eventually bond with their new sibling. Yet Esther has an eerie presence in their home, and her arrival sets of a chain of strange events, causing Kate to slowly see past Esther's angelic façade.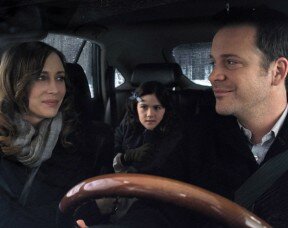 One would assume that after a 30 minute 'getting to know you' session, I'd somewhat care as to the fate of these people. Yet it's hard to truly give a damn when we're forced to watch these characters make one frustratingly illogical decision after another, just so that the narrative can actually work. It's a shame David Johnson's screenplay is so poorly deliberated in that regard, as Verna Farmiga and Peter Sarsgaard each give strong, grounded performances as Kate and John. Even young Isabelle Fuhrman shows promise as Esther, despite the way in which her Eastern European accent comes and goes as it pleases.
But the real problem here is just how far Collet-Serra is willing to go to get a reaction out of his audience. He's taken the 'creepy girl' routine to a sickening new level, which is so far removed from the realms of plausibility, it might have actually proved funny if it wasn't so brazenly immoral. Here we have a 9 year old girl who gleefully bashes a person to death with a hammer and points a loaded gun at the head of a little girl. I struggle to see how anyone can consider that entertainment. Orphan is really a nasty showcase of gratuitous violence, which shocks simply because it places helpless children in truly horrific scenarios. It's also quite  discriminatory in the way that the murderous child is, for no real reason, Russian. Apparently, the US doesn't breed evil killer children quite the same way Eastern Europe does.
Admittedly, Orphan does feature a twist ending that partly justifies Esther's inhumane behaviour, but it isn't the least bit rewarding given how exceptionally stupid it is.   (By dumb luck, I jokingly guessed the ending half way through the film, not actually thinking there was a tinge of truth to it, only later to discover I was spot on.) That being said, it's perhaps the only part of the film that isn't instantly predictable, as Collet-Serra sees it necessary to blatantly foreshadow everything else worth knowing long before it happens. What this does is effectively nullify the few surprises Orphan has to offer, leaving it up to some tired genre clichés to scarcely turn this morally depraved garbage into something resembling a horror film.

Follow the author Anders Wotzke on Twitter.
Related Posts: