UPDATE: This competition has ended. Winners announced below!
To celebrate the June 30 release of  Michael Winterbottom's THE TRIP, the new British comedy starring Steve Coogan and Rob Brydon, Madman Entertainment and Cut Print Review are giving our Australian readers the chance to win one of five in-season double pass to see the film in cinemas. One lucky entrant will also receive a DVD prize pack containing the following four movies: In the Loop,  French Film, 24 Hour Party People and Tristram Shandy: A Cock and Bull Story.
To be in the draw to win, simply follow the entry instructions outline below!
The Trip synopsis: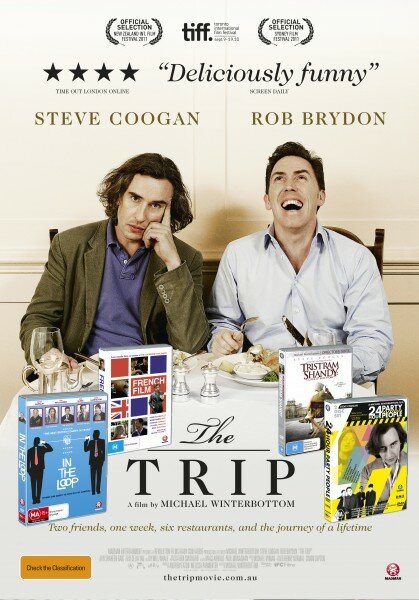 When Steve is commissioned by The Observer to review half a dozen restaurants, he decides to plan a trip around the North of England with his food-loving American girlfriend. But when she decides to leave him and return to the US, Steve is faced with a week of meals for one. Reluctantly, he calls Rob, the only person left he can think of who will be available on short notice. Rob, never one to turn down a free meal, agrees, and together they set off for a culinary adventure.
Over the course of six meals at six different restaurants in and around the Lake District, Lancashire and the Yorkshire Dales, the brilliant comic duo, freestyling with flair, drive each other mad with constant competition, all the while riffing hilarious impressions of iconic actors including Michael Caine, Sean Connery and Al Pacino.
For cinema screening locations of The Trip, see here.
V. Tasovac, WA
C. O'Reilly, VIC
L. Firli, VIC
B. Duke, SA
A. Jane, SA
T. Gavin, NSW
Congratulations to the winners! Your prizes are on their way

Follow the author Anders Wotzke on Twitter.
Related Posts: