The protagonists in Disney/Pixar's Up are not toys, fish, cars, rats or robots. Instead, they're people, and I daresay one of the hardest things to get right in animation is realistically personifying a person. They pulled it off once before in 2004's The Incredibles, but what Up achieves is something truly remarkable. In a short montage that chronicles the life of married couple Carl and Ellie Fredricksen, Pixar capture the essence of humanity so profoundly, it's one of the most touching pieces of cinema I've seen all year. Academy, get your Oscars at the ready. A-gain….
As poignant as the first fifteen minutes are, Up is also an immensely joyous experience. It's another near-perfect Pixarian blend of escapist fun and heart-warming sentiment, sure to delight with its dazzling animation, hilarious dialogue and adventurous spirit. It mightn't be as innovate or thematic as last year's Wall-E, but it's far more kid-friendly; if 20,622 multi-coloured helium balloons displayed in striking 3D isn't enough to keep young eyes glued to the screen, then an army of talking dogs will almost surely do the trick.
However, Up doesn't initially burst onto the screen in a spectacle of colour. Instead, it begins in the form of a black and white cinema newsreel, where famous explorer Charles Muntz ( Christopher Plummer) prepares his Zeppelin for a voyage to Paradise Falls, an uncharted part of the South American wilderness. Watching excitedly from the aisles is young Carl Fredricksen (Edward Asner, voiced to perfection), who dreams of on day being a brave explorer like Muntz. His meets and eventually marries Ellie, a chatty redhead with a similar sweet-tooth for adventure, who makes Carl promise he'll on day take her to Paradise Falls. But as the years fly by (during the aforementioned montage), the two find little time or money to realise their dream holiday, and in her old age, Ellie falls ill and dies. Distraught, Carl finally decides to honour his promise to Ellie, whose memory is perpetuated by the home they built together.
So how does he plan to relocate an entire house to South America? Simple; inflate thousands helium balloons, attach them to the house through the chimney and sit back and relax as it floats up into the clouds. Just after takeoff however, Carl has unexpected visitor knocking at the door; a chubby boy scout named Russell, who is eager to get his 'assisting the elderly' badge so he can graduate to Senior Explorer. Once the balloons start to lose their buoyancy, the two are forced to trek across the mystical wilds beneath Paradise Falls, where Carl slowly starts to take to Russell's company. Along the way, they bump in to an assortment of quirky characters; a gigantic bird with rainbow coloured feathers and an excitable golden retriever with the ability to talk through an electronic voice box in his collar.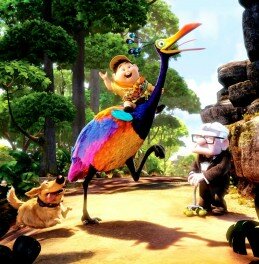 After such an emotionally grounded introduction, writer/director Pete Docter (Monsters Inc.) risked losing his audience to implausibility once houses start flying and dogs start talking.  He doesn't, of course, because we're simply too spellbound by the beautifully realised nature of the story to dare question its veracity.  The impeccable visuals are just as captivating, and while it's Pixar's first film to utilise 3D technology, it's not required to enjoy the sheer vibrancy and quirk of the animation. But nor is it a gimmick; the extra dimension clearly provides the film added depth, which could almost induce vertigo during the film's (overly) action-packed conclusion on a Zeppelin airship. The 3D is effective without having to resort to any protruding objects, but due to the tinted nature of the glasses, it does slightly dampen the radiance of the visuals.
While Up falls just shy of being Pixar's best film – that's a tie between Wall-E and Monsters Inc. – it's easily their most human. The message learnt by the film's conclusion is that the greatest adventure of a lifetime is life itself. But if  life itself is bringing you down, Up offers the perfect escape. Don't miss it.

Follow the author Anders Wotzke on Twitter.
Related Posts: