While Avatar fades into the rear view mirror and a possible Avatar 2 still remains a long ways off yet, James Cameron has in the meantime been actively involved in producing the visually spectacular survival thriller Sanctum. Directed by Australian Alister Grierson (Kokoda), Sanctum is inspired by the story of Australian cave diver Andrew Wight, a documentary filmmaker known for his underwater explorations who co-wrote the film with newcomer John Garvin. Wight was once trapped while cave-diving with a group of people and had to explore the caves to find another way out, and it's this intense survival experience that forms the basis for Sanctum.
The film follows Josh (Rhys Wakefield; Broken Hill), a 17 year old kid who has been dragged around the world most of his life by his father Frank (Richard Roxburgh; Matching Jack), an obsessive cave-diver. Frank and a team of other divers and explorers have been hired by American billionaire adventurer Carl (Ioan Gruffudd; W.), to chart an extensive labyrinth of underwater caves in the South Pacific. The thrill-seeking Carl is visiting Frank's expedition with his girlfriend Victoria, (Alice Parkinson; X-Men Origins: Wolverine) when a sudden tropical storm traps the characters deep in the caves with little chance of a rescue. Josh and Frank, who have no shortage of tense father-son issues and grievances, must somehow lead the trapped survivors to freedom by venturing into the uncharted portions of the caves in the hopes of finding a way out to the surface.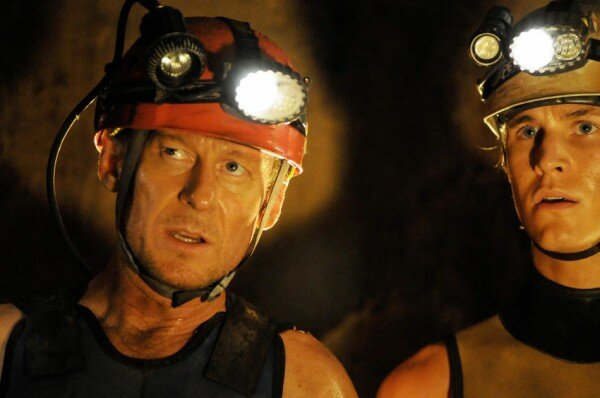 If you've seen only a few survival films in your time (whether rooted in real life or the supernatural), you'll know there's a predictability to the narrative that is rarely effectively masked. Fortunately, director Alister Grierson is clever enough not to bother trying, foreshadowing various plot points well before they happen. Sanctum is not about surprises. Instead Grierson focuses on delivering one of the most intense, visually arresting, and dramatic survival thrillers in recent memory. Each scene and location – whether a sound stage or on location – is vividly captured and often jaw-dropping. The 3D cameras used are the same James Cameron developed for Avatar, and the difference between his technology and the generic variety employed in films such as Clash of the Titans or The Green Hornet shows. The finesse and detail of the production and its focus on the very real and terrifying dangers of cave-diving ensures Sanctum never veers off into the realm of B-grade cinema. This is edge-of-your-seat stuff.
Such technical accomplishment is mere dressing to the surprisingly strong performances. Despite the stereotypically 'Aussie' characterisations, the drama feels palpably real, and the father-son relationship between Frank and Josh is, unexpectedly enough, quite touching. This is terrifically enhanced by the film's soaring musical score, the mood of which complements the individual character journeys rather than providing generic background filler.
Sanctum is an accomplished survival thriller with a genuine emotional core that takes both character drama and visual spectacle seriously. As something of a bonus, it's also an Australian film that might actually sell some tickets!
Related Posts: